When I think I have bought all possible summer squashes there could be, I can still find some that were not at the Market the week before!
And some heritage eggs, carrots and more carrots, and more Japanese Eggplants, and really fresh Squash Blossoms. And great fish! In case you are starting to wonder, I am not wasting any of this, as last week's cooking can attest:
Garlic scape infused olive oil...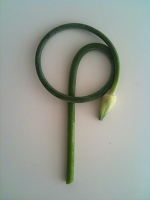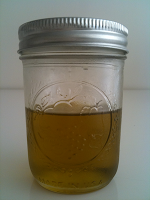 Yellow string bean, basil, and cherry tomatoes salad with slow cooked chicken breast (and some lemon zest!)...
(Large!) Patty squash soup...
Moist gluten-free, savory carrot and herb muffins....
Roasted vegetables with basil...
Cilantro and cashew pesto...
By the way:
I served the soup chilled, with some cream. The ingredients are otherwise simple: patty squash, 1 garlic scrape (removed before blending and straining), 1 tsbp lemon juice when cooled, 2 tsp walnut oil, salt & pepper!
The herbs in the muffins are parsley and the green parts of scallions.
The pesto was made of: cashew nuts (1/3 cup), 1 bunch cilantro, 1 tbsp sesame oil, 1/4c light coconut cream, salt (Himalayan) & pepper (add more coco cream or oil to your liking).