It was another week of pure colorful temptation at the Farmers Market!
In addition to these beautiful vegetables and herbs, I also found great and flavorful duck bacon, smoked duck breast and pasture raised pork chops. Already thinking of how to make great use of all this!
And here are a few snippets of how I made good use of last week's picks:
Sauteed summer squashes with duck bacon and whole branzino baked en papillote...
Rhubarb prepped for future adventures...
Slow cooked (free range, organic) chicken with light coconut broth, lemon grass, cilantro and mixed summer vegetables...
Dessert! Gooseberry jam with a dash of violet syrup, home made almond milk and vanilla gelato and toasted almond slivers....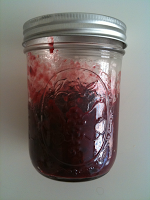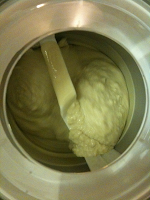 By the way:
Used (my staple) mapple syrup and brown syrup for all sweet ideas, and mediterranean salt and himalayan salt for savory ones.
I served the chicken with a thai purple sticky (fair trade heirloom variety) rice medley, that I cooked in half water, half light coconut milk and a pinch of salt!